Happy Wednesday loves! Time to link up with Jenn at
Peas & Crayons
for What I Ate Wednesday!
Click the button if you would like to join :)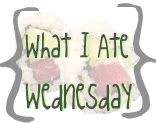 For lunch this week, I have been eating Healthy Choice Steamers. Each entree is 220-240 calories and are 4-5 WW points. The ones that I have had so far are delicious!
For dinner, I have been experimenting with cooking different cuisines and ate quite a variety this week.
Mexican Cuisine. Sorry for the poor picture quality -- I took the picture with my cell phone in bad lighting.
Polynesian Cuisine.
Both dinners were DELICIOUS!
What cuisines are your favorite to eat?
Hope everyone has a great day! xo