Woof Woof! I'm Brandi! My mommy told me that some of my friends were guest blogging on their mommy's blogs ... so I thought that I would come visit today. I'm joining Aspen along with his mommy, CMae from
Live What You Love
for Tail Wagging Tuesday!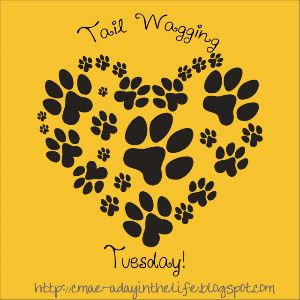 This week's topic is BLING BLING.
My mommy spoiled me and bought me a COACH collar. This was me when I first got it and I love it. It has a cute fire hydrant charm and has a dog bone charm that shows my name, where I live and my phone number in case I get lost. (I hope I never get lost from my mommy ... I love her!) I also have a matching leash that I use when I go for walks or to visit my friend, Dr. R.
Sorry for the poor picture quality. Mommy used her BarkBerry.
Now that you've seen my bling bling, head on over and link up with CMae and Aspen so I can see yours too :)
Mommy's coming back to share one of my favorite recipes with you. I'm off to go play. I hope to visit soon... this was fun!
Hello lovelies! Hope you enjoyed meeting my baby girl!
For Tasty Tuesday, I am sharing a recipe for Brandi's favorite treats!
Homemade DOG BISCUITS!
This recipe is courtesy of my baking friend, Danielle. She is awesome!
You can check out all of her amazing recipes on her FB blog,
Hugs & Cookies xoxo
! You will be drooling looking at the computer screen!
Ingredients:
2 1/4 cups whole wheat flour
3/4 cup all purpose flour
1 1/2 cup peanut butter
1 cup milk
Combine milk and peanut butter in a bowl and mix until smooth.
Knead dough by hand and roll out on floured surface to desired thickness. Cut-out treats.
Place aluminum foil on cookie sheet and bake treats for 15 minutes at 400˚ F.
Cool completely before serving to your lucky dog! ;)
*Note: If dough seems too dry or crumbly, add a little more milk. You can also brush the tops with beef or chicken broth before baking!