Happy Monday loves! It's time for another installment of "Not Another Bad Date." I'm so excited that you all are enjoying this series and I'm even more excited today because one of my blogging besties, Lindsey from The Bargain Blonde is here to share a story with you! If you don't know Lindsey, you should visit her blog. She is one of the sweetest and funniest people I know!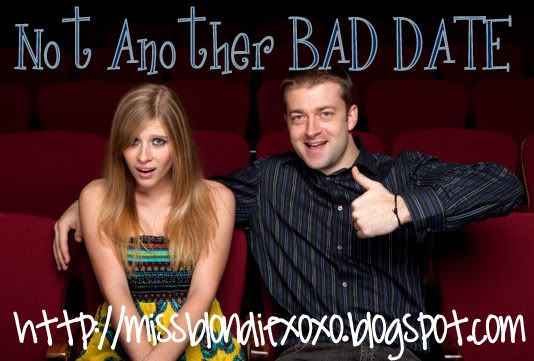 Take it away, Lindsey ...
I was beyond excited when Michelle told me about her idea for this series, "Not Another Bad Date." Even if you're taken, I'm pretty sure every girl out there has had their fair share of dating misfortune. Bad dates suck, but it's fun to look back and laugh about them. I hope you enjoy this one from my dating closet because I seriously could not stop laughing at my desk reminiscing.
I hate dating. I'm getting much better at it, but I've been known to have borderline panic attacks before dates. You better believe I chug a glass (or 3) before I head out the door for one. I just really, really, really can't stomach the awkwardness of the forced small talk and the even more awkward good bye. It's just too much for my nerves to handle.
I really don't have any complete horror stories, so I don't know why I freak out so much, but I've had a few not so pleasant experiences. Case in point: the boy I dated a few years ago who we'll refer to as "Tapered". You'll see why.
I am from Texas, but my Mom's company transferred her to North Carolina when I was a sophomore in college. After I graduated, I moved to NC to start my job search. Right after I moved I joined a gym and since I had no job and no friends there (loser), I spent every day at the gym. I eventually made small talk with the owner of the gym whowas very cute and he ended up asking me out.
I had only seen him in gym clothes, so when he came to pick me up in "street clothes", I had one thought…
"Hello, 1990 called and they want your outfit back."
I let the bad hair style slide. But TAPERED jeans, brown HIKING boots, a ribbed shirt borderline cropped top with a brown belt. I just can't.
If I was heartless, I would've shut the door, turned around and never gone to that gym again. But, being the classy lady that I am, I went and gave his attire the silent side-eye in my head. I cringed the second we got up from the dinner table and my eyes met the tapered jean/hiking boot combo again. I was hoping it was a bad dream. Y'all, it was 2006 and that outfit is offensive. Admit it.
I was desperate so I went out with him 2 more times. Don't judge. I mean, I literally had nothing to do in that town. I went to a bowling party with my Mom's work friends one Friday night. Like I said, desperate.
I ended up getting a job in Dallas shortly after moving to NC, so that was the last of Tapered. I never told him I moved, but I'm assuming he figured it out.
In his defense, he was a very sweet guy. I called all my friends back in Texas to tell them my "horror" story and they all were like, "But clothing isn't that big of a deal, you can totally change his style." That's the problem. Any man whose wardrobe is circa 1990 in 2006 is not the person I want to date. Call me shallow, but tapered jeans and Timberlands do not fly with me. Maybe that's why I'm single.
So tell me. Would you date a man who had no style whatsoever? Or am I being way too picky?
Thank you so much for sharing your dating story with us, Lindsey!
And to answer your question, I think physical attraction is important when dating someone. (I don't think they need to be drop-dead gorgeous but you should be attracted to them.) Wardrobe is a part of their appearance and it may be hard to look past that and would probably create an awkward situation if you were to try and give style advice. What do y'all think?

PS: I've also been asked about my buttons for this series. If you'd like to add a button to your page, the buttons and codes are available under the link-ups page on the right side of my blog under the profile header.