Hello lovelies! I'm glad that y'all are enjoying the dating series. It makes me excited that it is off to such a wonderful start. I have received so many great stories that I can't wait to share with you! Beginning next week, I will only be posting the series on Mondays and I will be sharing two stories that day. But since I'm not on schedule yet, why not share one more story ;)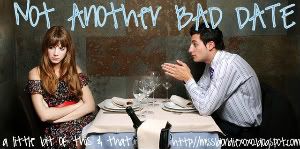 From this point out all stories will be anonymous unless otherwise noted.
I had been seeing a guy for about a week and a half. I won't lie, the first time we hooked up I was 3 sheets to the wind. Never a good idea and also never the beginning of a long, healthy relationship; But I was willing to try.
After the 5th time we hung out and some counseling from friends, I realized I needed to tell him it just wasn't going to work out. I can not begin to explain how nice this guy is, and I really did not want to hurt him further down the road. Here is where I must confess something else though. I ended things through a text message. I know, I know. Please don't hate me.
He seemed ok with things though and said we should remain friends.
We continued to talk sporadically through text until he sent me a text about a week later saying basically "I am hammered. I was never good enough for you or anyone else so you know what that means. " 1. I did not know what that meant. 2. I rather frantically sent him a response saying "That is absolutely not the case. We are just in different places in our lives right now."
Cut to the next day where he tells me he has "never been that drunk" and his night was "completely ridiculous." I was understanding and giggled a little.
So the next day he calls to tell me the full story of his crazy night. This is where you may start saying to yourself "Why in the world would this guy feel the need to tell you all this?" And believe me, I was thinking the same thing.
He tells me he was "threatening to kill himself and jump off a bridge." But apparently there was no bridge where he was. At this point I inform him that no matter how drunk he was, that is not a normal thing to say or threaten and he may want to talk to someone. He basically dismissed my suggestion and continued talking.
His friend had informed his father of what he was saying and doing. He then recounts his conversation with his dad to me.
Father "What is this I hear about you threatening to kill yourself over some girl?"
I interject "what did he mean some girl?!"
Guy " I uhhh well I don't know but he was like 'this was about some girl who worked at (insert name of my former employer)'"
Now I am incredibly, insanely uncomfortable. We had dated for A LITTLE OVER A WEEK! I got off the phone as quickly as possible....
I am not sure what to do now, but I know going out with him again is definitely not up for consideration.
Readers, any advice or suggestions?
Please note: Any negative or inappropriate comments to any post throughout this series will be deleted.
If you'd like to share a story, e-mail me!