Hello darlings! I'm so excited to be joining a new link up! You all know how much I love link ups. ;) One of my blogging besties, Michelle at
The Vintage Apple
is a pinterest addict like I'm sure many of us are and decided to create a new link up called "
Oh, How Pinterest-ing Wednesday
". All you have to do is share your favorite pins for the week! Super simple and fun!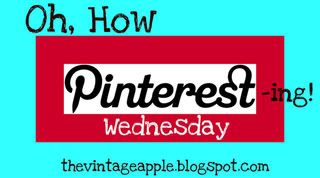 Click the button to join :)
Party Inspiration
Design Inspiration
LOVE the color (again!) and the fireplace
Baking Inspiration
Apple Cinnamon Roll Cupcakes
Banana Cream Pie Cupcakes
What types of pictures do you have "pinned" on pinterest? Are you addicted yet?
Here are two more pictures before I go ...
Find me on Pinterest
here
. Have fun! xo