Happy Wednesday friends! It's hump day, which means Friday is near! :)
I'm linking up with Jenn at Peas and Crayons for WIAW!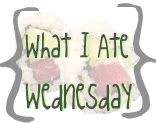 Click the button to join :)
Unfortunately, I didn't take pictures of what I ate this week! But I couldn't disappoint my blogging bff, Jenn ... so I'm switching it up this week!
WHAT I WOULD EAT ... Healthy vs. Unhealthy
Healthy:
Unhealthy:
If you could eat the unhealthy meal everyday and not gain a pound, would you?
If you could one thing to eat for the rest of your life and not gain a pound, what would you choose?
Have a great day loves! xo