Happy Monday loves! It's time for another installment of "Not Another Bad Date." I'm so excited that y'all are enjoying this series and I'm even more excited today because one of my blogging besties, Ashley from Run With Me is here to share a story with you! If you don't know Ashley, you should visit her blog! She is one of the sweetest, down-to-earth people I know!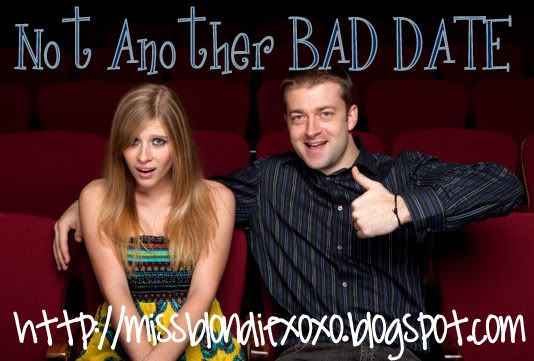 Take it away, Ashley ...
Hey dolls! So happy to be guest-posting over here today. Love Michelle and her blog and this series is so fun right? I don't have that many bad dating stories to share but I've had so much fun reading everyone else's that I knew I wanted to participate too. Hope you all have beautiful Mondays!
XO, A
It was during college. While being on a "break" from my five year relationship (thanks Rachel and Ross for introducing the world to the lovely "we were on a break" mentality) I knew I wasn't ready to get back into the dating world as all my friends were encouraging me to do…but I did know I needed to get out and not stay at home every night. I accepted an invite to a fraternity party from a guy I had met for that Friday night. I rallied friends to go with me but, disappointingly, everyone already had plans. I've never really been the kind to need people to go with me to do stuff so, I went on my own. It was near 11pm by the time I got there and girls were already 5 shades past drunk off their face. After scoping out the room, and spotting my invitee surrounded by 3 wife-beater-clad girls, I surmised that my stay at the party would be "short" to say the least. It was on my way out the door that a tall, broad sandy-haired guy said 'hey.' He was in the middle of a conversation of which he kindly drew me into. He was funny and we talked easily. I stayed at the party for another hour or so and then me and *John exchanged numbers and decided to meet up for lunch the next day.
It was clearly just a friend thing I rationalized in my mind. Though I enjoyed his company, I knew I didn't want to date him seriously – which placed him firmly in the unfortunate "friend zone." I was confident he felt the same way. He was just an easy-going, football loving guy who saw a neglected girl at the party and thought he'd be nice and talk to her. Right?! Psssh, of course I was right.
I was so wrong. Me and John did grab lunch the next day and occasionally dinner as we had similar class schedules on certain days of the week. But he was never overly flirty and sometimes our meet ups would consist of nothing but studying before a test. One Friday over breakfast he mentioned that his frat was having another party that night and asked if I wanted to go. I said sure and he said that we could just drive together since it was about 20 minutes away.
We went to the party, stayed for about an hour and then decided to leave. Where we parked we had to jump a huge cement ditch. I had crossed my fingers, spit over my left shoulder and prayed I'd make it across the first time and I did. On the way back, John grabbed my hand to help me over…..only he didn't let go. Instant panic rushed through me. Did I rip my hand away? Did I ask "what are you doing?" Didn't he know we were in the friend zone?!! Maybe he forgot he was still holding it. I decided both would be awkward and to just chill out the remaining 20 feet to the car. Thankfully we made it back to campus without incident.
Until we neared my dorm where he threw out the idea of watching a movie. My brain was empty. What possible excuse could I have for not watching a movie at 9pm on a Friday night? Homework? Laundry? Hi, I'm Ashley and I'm 97 years old. Since he lived in the fraternity house and since I knew all my roomies were home, I said "sure." Naturally we walked into the apartment to find that…. all my roomies were gone…..of course they were. I hit the dvd stand realizing my roomies might not come home and we needed to get this cinema fest in gear. I soon realized the crazy roomie (and owner of the DVD collection had apparently locked them in her room). The two choices we were left with was Pirates of the Carribean and Finding Nemo. Since I'm not a huge fan of cartoons I chose Pirates. Did you know that Pirates of the Carribean is THREE HOURS LONG??! I attempted to keep John from charging out of the friend zone by chatting it up like I was Kelly Ripa. We watched all ten thousand minutes of that dang movie before John left.
Every year at our school the student body's names get tossed into a lottery for Clemson Carolina tickets. That following Monday I found out I didn't get a ticket. Knowing John was on the team, I knew he had extras. He said he'd give me one if I went to dinner with him – like a real one – not in the cafeteria. Kid struck a hard bargain but I said yes….only because I wanted a ticket. Geez I was a slimeball!
Thanksgiving break was the next week and on Thanksgiving, John had called to tell me he had shown my picture to his parents and grandparents and 'they approved.' I wasn't quite sure what they approved of....my looks, my upbringing...my super awesome personality ;)...who knew...but I did know that clearly John was not staying put in the "friend zone."
When I got back to school, I went to his dorm to have the DTR (Defining the Relationship) talk. As I was waiting for him to finish talking to someone, his computer went on screen saver and I saw pictures from my Facebook begin to float across his screen. Oh geez.....this was awkward. I occasionally saw John around campus but we never hung out again.....every time I saw him, I felt like a horrible ice queen - especially since I always ran into him when I was with my on-again boyfriend....but I knew it was for the best..
Oh, and John is engaged now. He wins. And we're still friends... on Facebook.
Well, that's definitely awkward! Your face floating across his computer screen is a bit much to say the least! I'm glad you moved on from that! Don't you ladies agree?
Thanks for sharing for your dating story with us, Ashley!
PS: I've also been asked about my buttons for this series. If you'd like to add a button to your page, the buttons and codes are available under the link-ups page on the right side of my blog under my profile.