Happy Monday pretty ladies (& handsome gents)! It's time for another installment of "Not Another Bad Date." I'm loving this series and I'm so glad you all are too! I'm especially excited because one of my fabulous blogging besties, Erica from
Young and Fabulous
is here to share a story with you! If you don't know Erica, you definitely need to head on over to her
blog
and say hi! She has such a great sense of humor and is hilariously funny! Not to mention, she is one of the sweetest people I know ... you'll love her!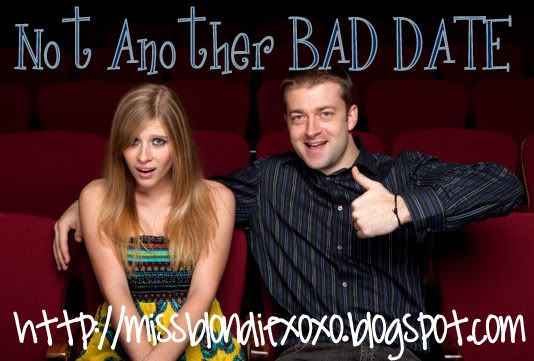 Take it away, Erica ...
Holla everyone! I'm wicked excited to be gust posting here on Michelle's blog! First off she is amazing for coming up with all these awesome link-ups. Second off, I have died laughing reading about everyone's bad dates. This date story BROUGHT ME BACK. I had forgotten all about this dude until she asked if I'd like to participate! I had so much fun looking back on this poor excuse of a date, so I hope you all enjoy and will link-up!

So ... I broke up with my high school boyfriend of 3 years during my freshman year of college. After breaking up with him, I went through a mini slut phase. I mean, everyone does it right? Anyone? Okay, don't go thinking I'm a slut!

Anywho, I went to college in a very rural area…I'm talkin' we had to drive 25/30 minutes to get to any "real life" civilization. So I started talking to this guy I met in one of my classes and it eventually led to late night Facebook messaging and sexts (yeah, I said SEXTS!) We will call him Chewie, for later reasons. Chewie was on the baseball team so immediately I felt insanely cool..plus he was very nice to look at!

One Thursday afternoon at around 4 PM, he texted me and asked if I wanted to go out for a nice dinner. Um, Hell to the YES? I remember what I wore. I put on my sexy skinny jeans, some cute heels, and a nice top. So 7 PM rolls around and I'm thinking he stood me up for our date. Finally at 8 PM he texts me and says he is outside of my dorm. We headed to Chili's. Normally, I'd think um, I look too pretty to be going to Chili's listening to a screaming baby and a couple fighting over wiping down their booth with disinfectant wipes, but since we were in rural hick city, it had to do!

So Chewie orders the Quesadilla Explosion Salad and proceeds to tell me that there are over 2000 calories in it and that he needs all the calories he can get to keep up with his "carved temple." He referred to his abs as a carved temple…WARNING FLAG #1. He also ordered a Miller Lite. He was 21, I was only 18…instant coolness eh?

So his salad arrives and my burger arrives. He starts scarfing down his salad, stopping for brief seconds to chug beer, then scarfing some more. But the icing on the cake was that when he chewed, his upper lip flared and it just made him look repulsive. Like, his lip flared for each chew and I could see bits and pieces of salad getting tossed around in the front of his mouth. WARNING FLAG #2

As he was eating, he kept gliding his foot up and down my leg and giving me sexy looks while he was chewing. The words sexy and chewing can NEVER go together. Plus, he was wearing dirty sneakers and it was just not cute.

He started getting creepy, like running his eyes up and down my body, as we were sitting in freakin' Chili's, as he was chewing, lip flared. I asked him what he was looking at and he said "I think you would like to see my carved temple, as I'd like to see your tight ass." I started thinking about our sexting and how I probably shouldn't have told him that I did gymnastics for 13 years and had a tight body. Woopsie? WARNING FLAG #3



We leave Chili's and he pays…WITH A CHECK. I saw like 5 credit/debit cards in his wallet. I had no idea you could pay with checks in a restaurant. He said it makes him look like he has money, where then he proceeds to tell me that he will one day be playing for the Philadelphia Phillies. Sure, buddy, sure.

He finally drops me off and I actually kissed him…I know, the horror. He told me that he had a paper to write and that he might text me to come over and "watch a movie" around 1 or 2 AM. Really? We'd watch a movie at 1 or 2 AM? So as I am getting out of the car, he reaches towards my butt and then asks if I am wearing a thong. At this point, I was so furious and disgusted in myself, that I said I was not wearing a thong, but I was wearing big white granny panties. I was hoping it'd turn him off, and it must have, because I didn't get that text in the wee hours of the night.

Oh bad dates..aren't they just the greatest? And no, Chewie is currently NOT playing for the Phillies but writing this did prompt me to go creep the heck out of him on Facebook!
WOW! What a date! I love his nickname "Chewie" and seriously, who pays with a check on a date no less?! And his "carved temple" HAHA
Thanks for sharing with us, Erica! At least, we can look back on all of our bad dates and laugh now! :)
If anyone has a dating story that they would like to share, e-mail me! I'd love to have you share a story with us! :)